Offering a highly precision range of products like Digital Weighing Scales, Electronic Weighing Scales, Platform Scales, Electronic Weighbridges, Electronic Weighing Balance etc...

About Us

Supported by a proficient team of employees, Swastik Systems & Services, an ISO certified company, are able to produce highly precision quality Weighing Equipment to cater varied needs of food, pharma and steel industries. Our proficient team is a vital part of our company as they come through all manufacturing and quality control acts with utmost preciseness. Their hard work and dedication bestow us a position as a renowned manufacturer, supplier, trader and Service Provider. We are offering a wide range of products like Digital Weighing Scales, Electronic Weighing Scales, Platform Scales, Electronic Weighbridges, Electronic Weighing Balance, Laboratory Scales etc.

Mr. Dayanand Gupta in the year 2004 laid down the foundation stone of the company. His knowledge and experience in engineering and servicing all kinds of electronic weighing scale and weighbridge has helped us provide satisfactory equipment and after sales services to the customers.

Additionally, our research and development unit is expeditiously succeeded by our versed team of research professionals who keep themselves updated with current technological improvements. Our proficient R&D team has extensive experience in delivering accurate technology to the valuable clients.
Company Vision & Mission

We accept that we are on the face of the earth to bring outstanding products, which are dynamic and impulsive such as Pitless Weighbridges, Electronic Pitless Weighbridges, Belt Scales etc. Constantly focused on innovation, we evaluate the simplicity with versatility. By believing that we need to control the firsthand technologies behind the products we deal in, we additionally participate in the fields where we can make a significant and momentous contribution. Analyzing what rightfully crucial and meaningful to us, we make a yes for all the significant projects. The company believes in the profound collaboration and cross-pollination of our units, which permits us to introduce in a manner that others cannot. We don't settle for anything inferior than excellence and intent to be at the top.
Product Range

With the use of latest technology and our extensive domain expertise, we are successfully engaged in manufacturing and supplying of wide range of products like:
Laboratory Balances
Tank Weighing Systems
Belt Scales
Electronic Weighbridges
Pitless Weighbridges, Electronic Pitless Weighbridges

Electronic Weighing Scales
Load Cells
Weight Indicators
Automation Equipment
Process Control Instruments
Filling Machines
Weighing And Bagging Machines
After Sales Services
Quality Control

Swastik Systems & Services, an ISO certified company, is committed to achieve maximum satisfaction of the clients through delivery of quality products. We put all our efforts in maintaining the top-notch quality of the products by following quality control measures in our production process.Our group of quality inspectors organizes a rigorous quality test after the production process gets completed.
To insure the quality of our products like Pitless weighbridges, Electronic pitless weighbridges and many more, we use different testing equipments, which are the assets to our fully accoutered quality testing laboratory. We check our array of equipment on the following parameters:

Finishing
Safety
User friendly
Construction
Dimension
Strength, etc.

Infrastructure

Our company boast a well maintained infrastructure setup that includes a state-of-the-art manufacturing unit. It is outfitted with all precocious machines and instruments. Our unit is spread over a sprawling area of land and has requisite facilities to enable faster and accurate production of products. It also helps in handling the bulk orders of our clients and meet their requirements in stipulated time frame.

In addition, we have a spacious warehouse where we can store bulk products manufactured by us. The storage installations it grips keep the products in their complete intact form. The warehouse is in the reach of air and sunlight so that no humidity or moistness can be prevailed close to the abidance of products.

Client Satisfaction
The satisfaction of our consumers and clients have always been our utmost priority and the company's code of behavior reflects the same. Through our range of Pitless weighbridges, Electronic pitless weighbridges etc, which are in a grade of their own, we aim to endow our clients by means of attribute rich and utility motivated products, which can surpass all the factors of execution, quality, permanence, reliability and length of service. Believing in the options, we offer a variety of modes for payments to our clients which is why they tend to be favorably contended with our products and services.
Why Us?

Owing to the tireless attempts of our employees, we have been flourishing as the best choice of our prestigious clients.

Ethical business policies
Quality products
State-of-the art technology
Extensive range of products
Timely delivery
Wide operational network
Competitive prices
Meeting utmost client satisfaction
Best use of resources.
Application Industries
Ideal for quarries, mining, bulk material mingling, process control, barge or rail load-out usages, the belt scale and other products we offer are one of the quickest methods of tossing and weighing bulk materials. Appropriately suitable for the place where the digging work for foundation is challenging or structure of pit is high-priced, our range of pitless weighbridges, electronic pitless weighbridges etc are available at market leading prices. Our variety of products find an assortment of applications in the industries of:
Solid Waste
Agriculture
Petrochemical
Food
Transportation
Retail
Pharmaceutical
Medical etc.
Used for measuring the weight or mass of a physical object or substance, our weighing products are used in the laboratories, warehouses and grocery stores.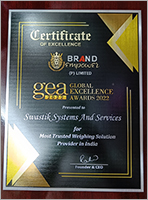 Read More