Laboratory Balance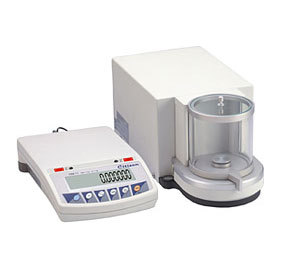 Laboratory Balance
Price And Quantity
Product Specifications
Product Description
We are known across the country as one of the reputed manufacturer and supplier of Laboratory Balance. These machines are a must for laboratory operations and are offered in various capacities. As committed towards meeting our customers expectation in terms of product quality, we carry out our production task i.e. from sourcing of raw materials till final delivery with utmost precision. Laboratory Balance is offered at industry leading rates to meet our customers' cost-effective budget.

Details:

Used for performing laboratory operations of measuring small masses


Offers proper accuracy in measurement


Equipped with graphic display

Laboratory Balance

Micro Laboratory Balances has been designed to meet high requirement for measuring small masses with high readability [d = 1 mg). They ore equipped with graphic display with user menu.

In order to guarantee proper accuracy of measurement, a half automatic system of external calibration with El standard weight has been applied.

Micro balance consists of two balance components. One of them contains electronic modules & other precise mechanical measuring system. Such solution guarantees elimination of temperature changes influencing the indication micro balance.

Micro balances series CM ore offered with 3 capacity 5grn. & 2lgrn (with readability 1 mg) balances are equipped with esthetic, cylindrical! Shaped weighing chamber with glass draftshieid. All elements of weighing chamber ore manufacture from glass or metal which minimize the influence of electro static charges on weighing result. Micro Balance equipped with user friendly menu User has access to multiple functions & measuring units which allow for specification for working requirements. Micro Balances software allows for composition of GLP procedures as standard printout or of freely definable non-standard printout series.

Balances CM are equipped with Rs232, Ps2 o/p & possibility of connecting additional display as standard.

Standard Features

Easy to read large backlit GRAPHICAL LCD display with A.E.P, (Advanced Eye Protection) (NEW)

Standard RS-232 C interface I Ps2 output.
Built-in Internal Calibration with function like E1 standard weight.
Initial Calibration.
Auto calibration according to change in ambient temperature.
User selected time calibration.
Various application other than just simple Weighing like
Statistic
Conforms to GLP/GMP & ISO 9001 Standard.
Improved Repeatability for better results.
Contact Us
A-12/3, Hardevpuri 100 Feet Road, Shahdara, Delhi, Delhi, 110093, India
Phone :09599388861